We are the leading Lexus V8 conversion company situated in Pretoria servicing clients all over South Africa and clients based up to Zimbabwe, Mozambique, Namibia and Botswana.
We also strive in giving the best after market service to our valuable clients, because they are our future! As part of striving for good services and best products we train our Technicians at regular intervals to stay up to date with the latest technology.

The following services are delivered to our valuable clients: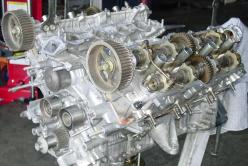 Lexus V8 conversions.
Lexus V8 engine services.
Lexus V8 engine spares.
Turbocharger conversions on Lexus V8 1UZ.
Supercharger conversions on Lexus V8 1UZ.
Dyno tuning on all vehicles.
General automotive supplies.
General service & repairs on all cars, bakkies & 4x4's.
Spitronics Engine Management sales & fitment.
Steel fabrication.
Heavy duty welding.
Machining.
Press of wheel bearings and suspension bushes.

And so we can carry on; basically our workshop is equipped with a large amount of machinery to be able to handle and deliver a great spectrum of services and products.