Spitronics Engine Management & fitment


Spitronic Lexus V8 ECU Diagrams.pdf
//www.spitronics.co.za/cms/product-emu20.php
---
{{item.currency}}
{{pricing}}
---
---
{{item.currency}}
{{pricing}}
{{item.currency}} {{item.normalPrice}}
---
{{item.currency}} {{pricing}} - Out of Stock

Welcome to Spitronics Micro Ignitions
As we are Spitronics agents we specialize in the fitment and fault finding of all Spitronics products.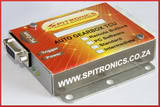 Designer, manufacturer and supplier of Engine Control Units that are out of this world.
Get ready to enter a whole new galaxy of Engine Management.
With a dedicated development team of Spitronics who are constantly improving on the current Engine Management systems technology.
Spitronics believes that the sky is not the limit. You can expect friendly and speedy feedback on all your technical and administrative Engine Management enquiries.
Spitronics specializes in Engine Control Units, Transmission Control Units and other add-on products. We also stock other motor spares which are always useful in conversions.
The small pocket-sized computer box can be neatly tucked away behind your dash compartment.
But don?t underestimate the power of this small unit.
Spitronics ECU?s comes in a kit made up of wiring looms, map sensor, relays, and software, installation manual, wiring diagrams and start-up maps, to ease installation. If you are experienced in mechanics and electronics and if you are willing to read the manual, you will be assured of a seamless installation. We also have experienced agents if you are not up to the job.
Spitronics ECU?s comes with state of the art tuning software. Simply install the software on your laptop, connect your laptop to the ECU with the communication cable, install a lambda sensor, and you will be able to maximize your engine?s output with regards to speed, power, or fuel consumption.
The Spitronics ECU can be used for a range of different applications.
crawling to your old faithful everyday vehicle. The ECU is also used for boats and small private planes.
Take your vehicle?s performance to the next level with Spitronics.